Your NMIT student email account is part of the Office 365 cloud suite. It comes with a 50GB Mailbox, Calendar, Contacts and anti SPAM features, which you can continue to use after you leave NMIT.
Your personal NMIT email address is in the format firstname-lastname@live.nmit.ac.nz e.g. joe-bloggs@live.nmit.ac.nz
We strongly recommend that you regularly check your Office 365 account so that you do not miss important notices. This could be especially important in times of civil emergency where your Student Mailbox will be a vital part of any emergency communication process. However, we realise that you may have an existing and preferred e-mail account, or you may wish to redirect your Office 365 account to your smart device.
Setting up your mail forward
1. Login to your NMIT Outlook mailbox
2. Click on the cog on the top right of the screen and select the Mail link

3. From the Navigation panel on the right hand of the screen, choose Mail, Forwarding
Enter your personal email address

Select 'Keep a copy of forwarded messages'

Click Save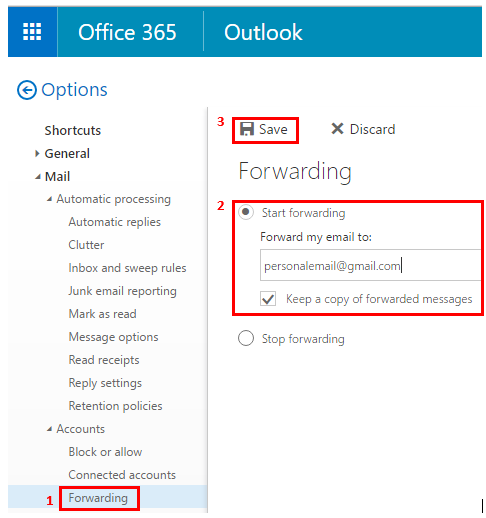 Now all emails received in your NMIT email address will be forwarded to your personal email address and a copy will be saved. If you want to stop this, select Stop Forwarding and Save
Please be aware that forwarding email is not a failsafe method of receiving all communications and we strongly recommend that you check your Office 365 account to ensure you are not missing important information.